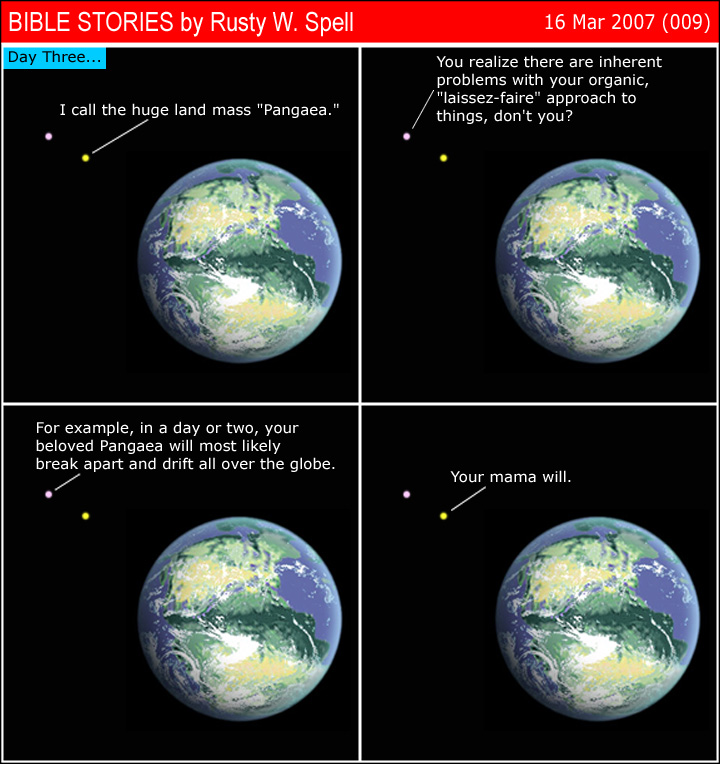 Day three is the "dry land" day, and once again I turn to reality for part of the joke, in this case Pangaea, the land mass that eventually broke apart. The image of the globe is one someone made during the Pangaea days, which may not be too obvious at first glance.
I also set up the idea that the Son of God would be "laissez-faire" by nature. Not only would he allow the expansion of the universe and evolution to do their things, but he would try to let people do their own things as well, interfering as little as possible, but nudging them in the right direction when he felt he needed to. His father, however, would become more impatient and hot-headed.
The punchline here is just a dumb "your mama" joke, of which I allowed myself just this one. More generally, this is a non sequitur joke, which are funny in small doses, but they're very easy to write, and I didn't want my strip to be riddled with them. In August of the year I created Bible Stories, I created The Insightfulness of Itduz Nutfellow, which is a comic about non sequiturs. With many of the Bible Stories, I am initially more concerned with the plots, characters, theories, etc. and not as much with the punchline, which explains the temptation for something like this.
Oh, but the punchline is also a good joke and bit of character weirdness too, since the suggestion is that God has a mother. In fact, mothers don't exist at all yet (as far as we know).